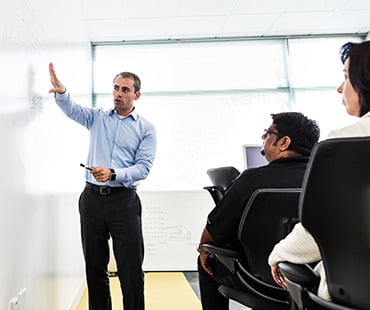 Overview
The Cisco Instructor Certification Program (ICP) Assessment Event is intended for candidates who want to become a Certified Cisco Systems Instructor (CCSI).
Read more
A CCSI certification is Cisco's commitment to training excellence and is designed to ensure customers receive world-class training from great instructors.
The ICP is a rigorous two-day assessment that validates an instructor candidate can successfully meet Cisco's minimum quality standards to become a CCSI. The ICP is an in-person process that assesses a candidate's abilities to demonstrate a strong technical background. It also validates the teaching and delivery style of the instructor candidate for an interactive and engaging classroom according to Cisco's instructor quality standards. A formal process is used to ensure that the selected CCSI provides the highest-quality training experience to Cisco customers.
Typically, public or private events are held in person at one of Cisco's global locations or held on site at one of our Authorized Training Partner locations. However, during this significant amount of uncertainty across the world due to the COVID-19 virus, the health and well-being of our customers, partners, employees and communities is of utmost importance to us. At this time, Cisco will be suspending all in-person ICP events and will be offering virtual events only.
For more information about the ICP Program, please refer to https://learningnetwork.cisco.com/s/article/instructor-certification-program-icp. For the schedule of all upcoming ICP Events please refer to https://learningnetwork.cisco.com/s/article/global-icp-event-schedule.
The ICP Event schedule is determined based upon the current demand to certify new instructors. If the current schedule does not meet your need, please contact our ICP coordinator to schedule your event or to answer any questions at icp_support@cisco.com.
Read less
---
Other Info
Part Number:
LCOT00008311
Product Line:
Instructor Certification Program
---