Cisco Learning Labs - ENARSI v1.0
CCNP Enterprise - Concentration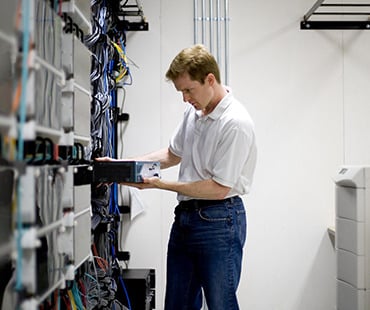 Cisco Learning Labs - ENARSI v1.0
Overview
This full set of Cisco IOS Software labs was developed to help students prepare for the CCNP Enterprise concentration ENARSI (300-410 Implementing Cisco Enterprise Advanced Routing and Services) exam.
With this purchase, you'll have 60 hours of lab time to use over your 90-day access period. These labs utilize Cisco IOS software with Layer 2 and Layer 3 features and CLI supported on version 15 releases and are available 24/7 whenever you are ready to learn.
Read more
This set of labs will help you become proficient in configuring, managing and troubleshooting Cisco routers and switches, as well as provide ample opportunities to test and reinforce your learning and preparation.
This training offer provides the equivalent lab environment and opportunities that are available to people who are taking either the in-person training, or the web-based, self-paced training. It is an excellent addition to those who prefer to study with books, or on their own.
The training product includes Discovery Labs with guided learning instructions to introduce new concepts and help students to reinforce their understanding of the subject matter and skills that are relevant to the 300-410 ENARSI certification exam.
This 29-piece lab curriculum aligns to the learning objectives for the 300-410 ENARSI exam, which, when passed will provide candidates with a specialist certification, and satisfies the concentration requirement for CCNP Enterprise certification.
Discovery Labs
Discovery 1: Configure EIGRP Using Classic Mode and Named Mode for IPv4 and IPv6
Discovery 2: Verify the EIGRP Topology Table
Discovery 3: Configure EIGRP Stub Routing, Summarization, and Default Routing
Discovery 4: Configure EIGRP Load Balancing and Authentication
Discovery 5: Troubleshoot EIGRP Issues
Discovery 6: Configure OSPFv3 for IPv4 and IPv6
Discovery 7: Verify the Link-State Database
Discovery 8: Configure OSPF Stub Areas and Summarization
Discovery 9: Configure OSPF Authentication
Discovery 10: Troubleshoot OSPF Issues
Discovery 11: Implement Routing Protocol Redistribution
Discovery 12: Manipulate Redistribution
Discovery 13: Manipulate Redistribution Using Route Maps
Discovery 14: Troubleshoot Redistribution Issues
Discovery 15: Implement PBR
Discovery 16: Configure IBGP and EBGP
Discovery 17: Implement BGP Path Selection
Discovery 18: Configure BGP Advanced Features
Discovery 19: Configure BGP Route Reflectors
Discovery 20: Configure MP-BGP for IPv4 and IPv6
Discovery 21: Troubleshoot BGP Issues
Discovery 22: Configure Routing with VRF-Lite
Discovery 23: Implement Cisco IOS DMVPN
Discovery 24: Obtain IPv6 Addresses Dynamically
Discovery 25: Troubleshoot DHCPv4 and DHCPv6 Issues
Discovery 26: Troubleshoot IPv4 and IPv6 ACL Issues
Discovery 27: Configure and Verify uRPF
Discovery 28: Troubleshoot Network Management Protocol Issues: Lab 1
Discovery 29: Troubleshoot Network Management Protocol Issues: Lab 2
Associated Certification: CCNP Enterprise
Associated Exam: 300-410 ENARSI
Read less
---
Other Info
Part Number:
CLL-ENARSI-V1-60H90D-024886
Product Line:
Cisco Learning Labs
---